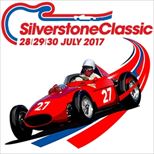 Silverstone Classic Local Residents
Silverstone Circuit, Northamptonshire
You can also book General tickets and Display packages over the phone by calling 0871 231 0849 - calls cost 13p per minute plus network extras.
Some or all of the items for this event require you to enter a promotional code.
Please enter your details below to buy tickets.
Extras such as standard Event Tickets, camping and programmes will be available on the next page.
Tickets will be issued by mid-July - please don't panic until then!