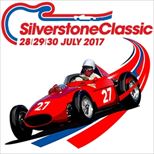 Silverstone Classic Ace Corner Display Packages
Silverstone Circuit, Northamptonshire
You can also book General tickets and Display packages over the phone by calling 0871 231 0849 - calls cost 13p per minute plus network extras.
Already Ordered Tickets?
If you would like to add more tickets to your order, please enter your details to group your orders together and only pay one transaction fee.
Please note that this is only available until your order has been printed and posted. After this point you would need to place a separate order.
Extras such as standard Event Tickets, camping and programmes will be available on the next page.
Tickets will be issued by mid-July - please don't panic until then!
Display Package Terms & Conditions:
The packages include TWO general admission Event Tickets and ONE infield vehicle display pass for your club display area.
These can only be purchased by a club member using the booking code dedicated to each individual car club.
Infield vehicle display passes, issued as part of a display package, are for display vehicles only and are only valid for parking within the designated club display area. When booking, club members will be asked for the make, model and registration number of the vehicle they intend to display at the event. The infield vehicle display pass will display this information along with the name of the club and so will only be valid for the vehicle that has been registered. This rule is in place to ensure that only the right classic cars are displayed to best represent the car club. If you need to change your vehicle details after purchase for any reason, the procedure to do so is very simple. It needs to be done by the person who made the original booking and this is clearly explained to the ticket purchaser in their booking confirmation email.
Given the large public spectator levels at the Silverstone Classic, display vehicle movements on the infield are restricted to hours outside of 10:00 to 17:00. Therefore, to ensure that you gain access to your club stand, we request that you arrive before 10:00 and do not leave before 17:00, otherwise you may be required to park in the public car park. The only exception to this is for vehicles entered into a track parade; these vehicles will receive written instructions from the event organisers regarding signing on, track assembly area, timings, etc. prior to the event.
Any vehicle parked outside their club display area is liable to be towed to the public car parks.
If you do not arrive in the vehicle listed on your display pass, or your car does not represent your club, you must park in the public parking outside the circuit (which is free of charge).
Infield display space cannot be guaranteed and is subject to weather and ground conditions. Car Club Display areas are therefore subject to change and, in extenuating circumstances, may result in parking in the public car parks.